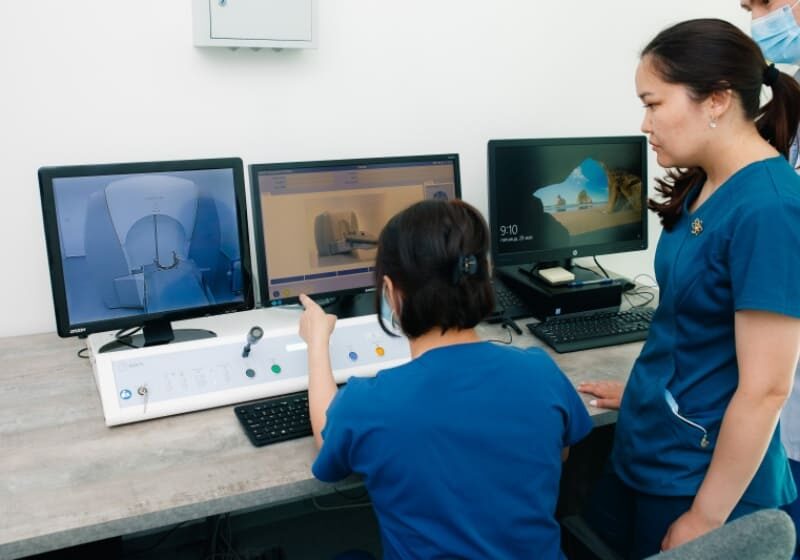 Online consultations in oncology: what are the conveniences for the patient?
Online oncology consultations are a new way for patients to get medical advice from oncologists without leaving home. They are conducted both via video chat and with written responses from doctors after reviewing the patient's documents – available discs, reports, scans, and videos. Allow patients to ask questions, and get advice and treatment plans from oncologists without having to travel to a clinic/hospital.
Why are online consultations so important in oncology?
Online oncology consultations allow patients to consult with doctors directly, despite geographic limitations. This is very important in oncology, where early diagnosis and timely treatment can greatly increase the chances of successful treatment. In an online consultation, the doctor can review your case in detail, verify the diagnosis, and make the right decision on how to proceed. In addition, online consultations are given to patients in the comfort of their own homes, which is very important for sick people during rehabilitation or supportive treatment.
The advantages of online consultations in oncology 
Convenience. They are conducted from the comfort of one's own home. This is especially important for patients who cannot come to the clinic/hospital or for those who find it difficult to find free time during working hours.
Accessibility. Online consultations allow patients to receive medical advice from oncologists regardless of their location. This can be especially convenient for patients who live in rural areas or have difficulty accessing medical care.
Security and privacy. Online consultations are just as safe and confidential as in-person consultations. This means patients can rest assured that their personal information will be protected.
Efficiency. Online consultations are just as effective as in-person consultations. Oncologists can provide the same level of help and advice via video chat as they do in person.
Minimization of stress when you first seek cancer care.
Online consultations can be helpful for patients who are seeking medical care or advice for the first time in the field of oncology. They can help minimize the stress associated with seeking cancer care for the first time. They are especially helpful for patients who are feeling anxious or depressed about their diagnosis.
Speed and the ability to get a quick opinion from a variety of oncology specialists.
Online consultations save time and help patients get a quick opinion from different oncology specialists. This can be helpful for patients who are trying to choose the best course of treatment for their disease.
Online Consultation at Medsolution Clinic
To get a high-quality online consultation with an oncologist in Kazakhstan – contact Medsolution Clinic! We organize oncological online consultations in the shortest terms, choose the best doctor for each patient individually, and provide fast communication with a specialist.
We arrange online consultations not only for residents of Kazakhstan, but also for patients from neighboring countries – Uzbekistan, Kyrgyzstan, Tajikistan, Russia, and non-CIS countries.
What is necessary to get online consultation at Medsolution Clinic?
To apply online via application form, Whatsapp, Telegram, or email us
A clinic manager will contact you and gather all the necessary information. We will choose the best doctor for your particular case and provide you with online consultation. The clinic will offer you options for contacting the doctor in a convenient form.
IMPORTANT!
Before the online consultation, gather as much information about your disease or medical condition as possible so that the doctor can help as effectively as possible. The more information (doctor's reports, disks, scans, tests, other medical information), the better.
Medsolution Clinic is ready to help and solve your health problems! Contact us for an online consultation!