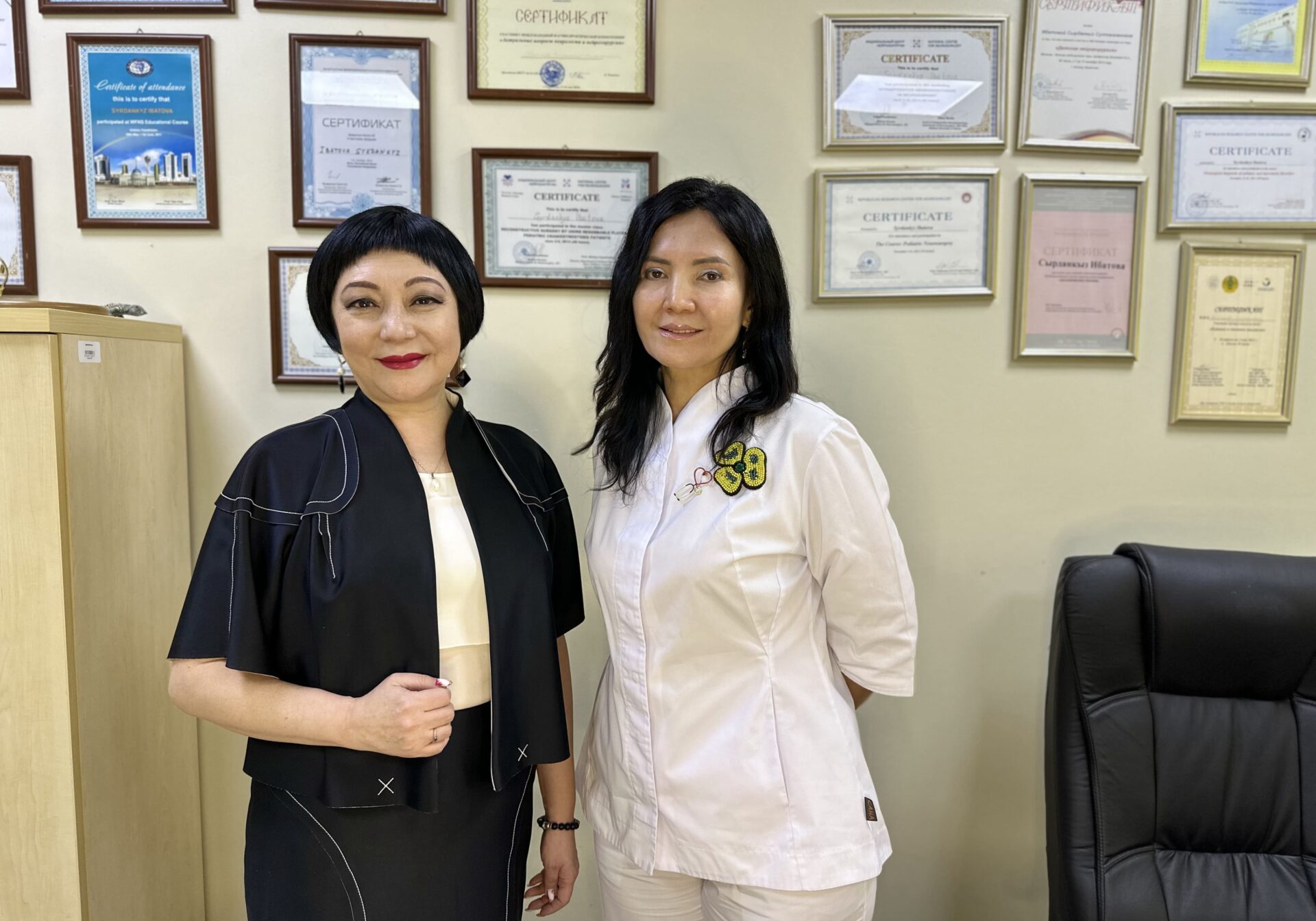 How to treat epilepsy in Kazakhstan
Gaukhar Ibatova, our epilepsy specialist, answered the most common questions about this disease. How to treat epilepsy in Kazakhstan, what to do in case of such a diagnosis, step-by-step epilepsy treatment plan in our Medsolution Clinic – here are the answers to these questions. 
The conversation is led by Sholpan Esmukhambetova, head of the Medsolution Clinic office in Astana.
Ibatova Gaukhar Sultankhanovna – PhD, Professor of JSC "NCN", doctor of the highest category, neurologist – epileptologist, neurophysiologist. JSC "National Center for Neurosurgery"
WHAT IS EPILEPSY? 
Sholpan Yesmukhambetova: Dear friends, now I will introduce you to a unique doctor, which is literally few in Kazakhstan and in any other country in the world. There is a myth that epilepsy is incurable. But now we are going to talk about the fact that epilepsy can be cured. Gaukhar Sultankhanovna, please tell us what is epilepsy. Let's start with that.
Gaukhar Ibatova: Epilepsy is a disorder of the central nervous system, it is a chronic disease of the cerebral cortex. Epilepsy is considered a disease of childhood, as 60-70% of seizures debut in children, and the symptoms of seizures can vary greatly. The pathogenesis of the disease is based on paroxysmal discharges in the neurons of the brain that provoke seizures. The causes are very many, not completely clarified, epilepsy can be hereditary, caused by structural changes in the brain.
According to the classification are defined several main types of epilepsy – focal and generalized. Focal, is a structural form, when there is a certain epileptogenic zone – an area of the cortex of the large hemispheres responsible for the generation of epileptic seizures. Its localization can be established through high-field brain MRI and EEG using invasive, deep electrodes at the time of the seizure, which can be surgically removed at a later stage. There are other forms, such as the idiopathic form, where there are no structural changes in the brain substance. In this case, seizures are coming from the deep parts of the brain. Some forms do not have any changes in the structure of the brain, called cryptogenic form, that is, unknown. Unfortunately, to date, this form is common in children.
Is epilepsy curable? 
To date, thanks to the success of modern pharmacotherapy, complete control of seizures is possible in 70-75% of cases. Thus, most epilepsies are curable, with timely diagnosis, with properly selected anticonvulsant therapy, the dose of the drug, and compliance with the regimen.  There are also hard-to-cure, poorly treatable forms of epilepsy, which are characterized by early onset of the disease, the debut of the first 3 years of life, high frequency of seizures, psychomotor delay, resistance of seizures to anticonvulsant therapy, we call it pharmacoresistant form. In such forms of epilepsy, if there are structural changes in the brain, they can be identified and removed. Such treatment is available to us today.
There is a genetic form of epilepsy, manifested in early childhood, which can be from birth, more often leading to subsequent retardation of the child in development and mental changes. In such cases, we also offer a palliative method of treatment: callosotomy, or vagus nerve stimulation.  
25-30% of epileptic patients can be helped. And how to do it?
Sholpan Esmukhambetova: Tell me, what percentage of all epileptic people has a chance of cure?
Gaukhar Ibatova: Thanks to the progress in medicine, having in the country, including in the center of neurosurgery high-quality surgical equipment, it is possible to carry out high-tech surgical treatment of pharmacoresistant forms of epilepsy. Therefore, about 25-30% of epilepsy patients we can help.
Sholpan Yesmukhambetova: This is a very high percentage! Naturally, many people think that epilepsy is incurable. Tell me please, why do people from other countries who suffer from epilepsy come to Astana, having bypassed some other specialists in other countries? Do they come here and get help? What is the uniqueness of you as a specialist and what technologies are used here?
Gaukhar Ibatova: Our main goal in epilepsy treatment is to get rid of seizures and normalize the patient's quality of life. In pharmacoresistant forms of epilepsy, surgical treatment gives the patient a chance for a complete cure or a significant reduction in the frequency of seizures, thus improving the quality of life of patients.
Conditions for surgery for epilepsy
If the question is: How is the decision about surgery made in our center? The neurosurgeon does not determine the indications for epilepsy surgery alone, the decision is made in conjunction with a neurologist-epileptologist, neurophysiologist, and psychologist, that is, a multidisciplinary team must be mandatory.  
Before such a consilium, the epileptologist must analyze all the data concerning the patient: carefully collected anamnesis, pharmacoanamnesis: seizure diary, video clips of seizures, the results of video-EEG monitoring (nocturnal, daily, multi-day), it is necessary to record an epileptic seizure, i.e. ictal EEG, at least 3 – 5 seizures, to determine the epileptogenic zone.  Higher resolution MRI of the brain.
Epileptiform activity, that is, the localization of the focus during video-EEG monitoring should coincide with the localization of the structural change on brain MRI. Such a patient has the highest probability of getting rid of epileptic seizures after surgery.
We perform the necessary diagnostics of high-resolution MRI of the brain, invasive EEG monitoring, and collect a package of documents. Without these examinations, we cannot start treatment. Without this, the patient cannot be considered a candidate for surgical treatment.
Sholpan Esmukhambetova: High-field MRI has been sounded. So this is high-tech equipment that allows you to very accurately determine the foci of lesions? And do all countries have such equipment? If we take, let's say, the Central Asian region.
Gaukhar Ibatova: Central Asian regions, Kyrgyzstan, Uzbekistan, I don't know if they have it or not. But we had patients from these countries who were examined and treated in their home countries, but they did not have such studies.
Timing of epilepsy treatment
Sholpan Esmukhambetova: Today is a time when not only the doctor treats but also high, modern technologies. And then the patient can get the best result!  There can be a very good doctor, but if he is not technologically supported in this direction, then, of course, we can not talk about effective help. And here, in our clinic concentrated and unique specialists and the most high-tech equipment.  Tell me, how long does a patient stay in the center, taking into account the diagnosis, surgery, and postoperative period? How quickly does a person recover?
Gaukhar Ibatova: If the package of documents is collected, the patient has all the results of MRI and ictal EEG, and if he/she is a candidate for surgical treatment, then in this case a quick hospitalization is possible. In our hospitalization, it is decided by a consilium.  After hospitalization, surgery is performed on the second or third day. In the postoperative period, during 7-10 days, the patient is under observation.
Sholpan Yesmukhambetova: 7-10 days.  In the future, does he need observation or rehabilitation? That is, how often should he be observed?
Gaukhar Ibatova: follow-up is mandatory. This patient should be under observation for 5 years. Why? Because the first time a baseline EEG is conducted and brain activity is observed. We should observe this patient until full recovery, until the complete withdrawal of drugs.
How does a real doctor train? 
Sholpan Esmukhambetova: Please tell me, you have 20 years of experience and a huge flow of patients you have treated and are treating. Naturally, a specialist is formed based on some schools. What kind of training and where did you undergo? What teachers did you have? In which countries did you study? 
Gaukhar Ibatova: Without school, of course, without a mentor, there is no specialist, no professional. A real specialist must have a whole complex of knowledge, experience, and skills, every specialist must go through a school. I can proudly say that my school is the Russian Research Neurosurgical Institute named after Prof. A.L. Polenov, where I started under the guidance of Prof. William Aramovich Khachatryan. This is a great neurosurgeon of the Russian Federation, who operated and practiced epilepsy surgery for 40 years. I still consult with him and learn from him, and he is my main teacher and scientific adviser.
I also specialized in France, in Paris, at the Rothschild Clinic with Professor Olivier Delalande. This is also a great neurosurgeon who practiced epilepsy surgery. I trained in Munich, Germany, I did internships in Turkey and Korea in this specialization. But my main school, I can proudly say, is Polenov Institute (Russia) and Rothschild Clinic (Paris).
Sholpan Esmukhambetova: I have heard from at least five countries! Fortunately, we have highly professional doctors to whom you can safely send your documents, undergo online consultations, come to appointments, and get a qualified answer. So welcome to such golden hands, to such a trained doctor! 
Thank you to Dr. Gaukhar Sultankhanovna Ibatova! 
Come to us for a consultation at Medsolution Clinic!